THE COMPETENCIES OF CANADIAN SUPPLY CHAIN PROFESSIONALS©
In an industry where practice is constantly evolving, skill needs to match requirement. For the first time in Canada, the many intricate competencies inherent to the supply chain industry have been published with actionable insight and detailed insight. Developed by Supply Chain Canada, along with the input of experienced supply chain professionals and global thought leaders, the Competencies of Canadian Supply Chain Professionals© is a comprehensive guide that maps what is needed to achieve end-to-end success in supply chain – one of our country's most economically vital professions.
FIND WHERE YOU OR YOUR EMPLOYEES STAND IN THE SUPPLY CHAIN INDUSTRY
Sign up to Supply Chain Canada's Competency Benchmarking Tool, which covers the same core and technical competencies highlighted in The Competencies of Supply Chain Professionals, Second Edition, 2022, and benchmark your or your employees' skills against what is required according to industry standards.
LEARN MORE
Designed by supply chain professionals for supply chain professionals, The Competencies of Canadian Supply Chain Professionals© builds on and strengthens the existing foundation of knowledge, while introducing new concepts and skill sets that will form the basis of the continued growth of supply chain management as a profession.
The publication presents the foundational, core, and technical competencies of the supply chain profession. It is a library of skills, covering the entire range of competencies in the end-to-end supply chain management profession. A user of the framework can select the competencies for a specific need or context and, as such, it contains standards for many supply chain occupations across most industry and economic sectors.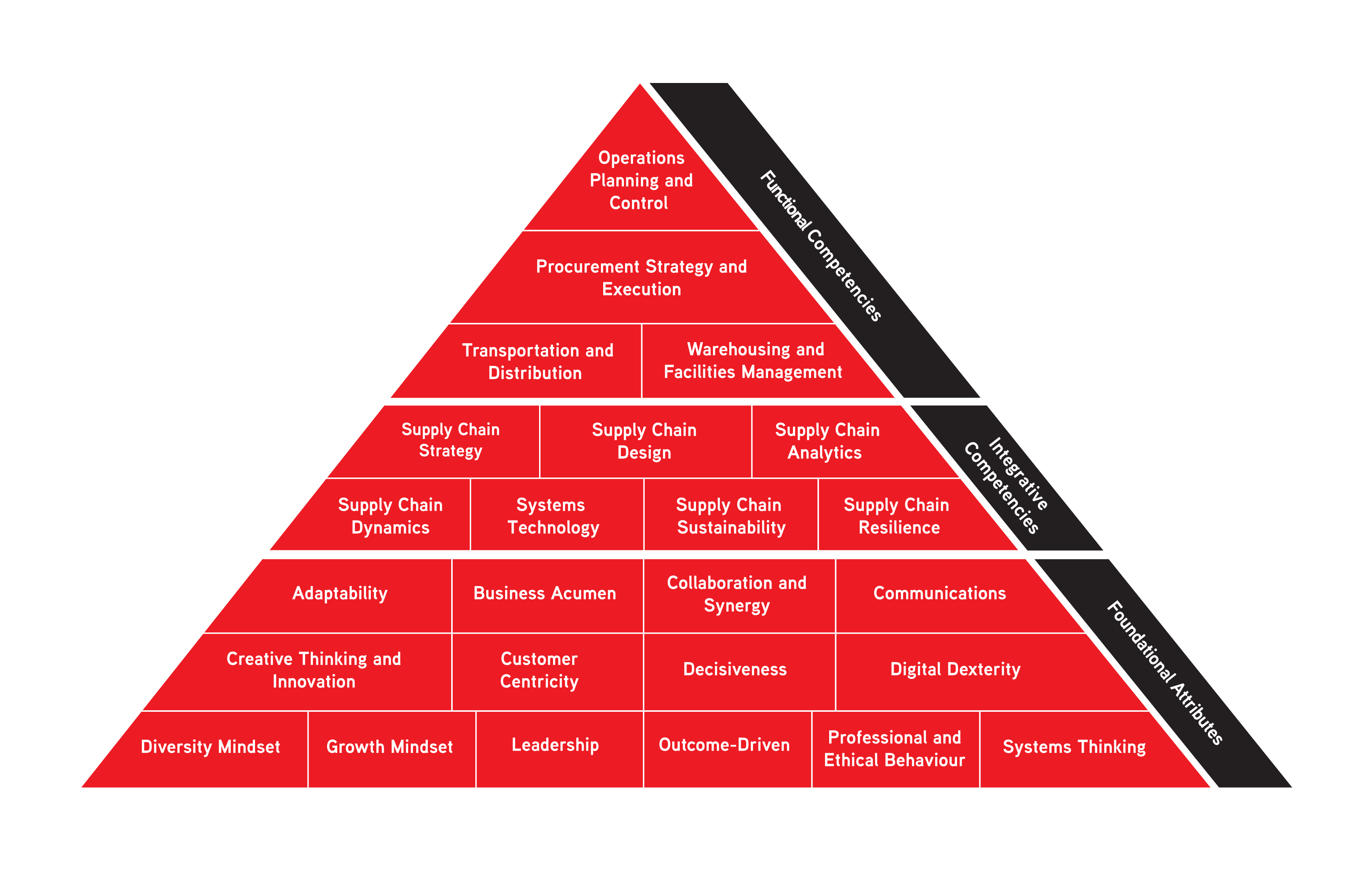 With the publication of the report's first edition, we have elevated supply chain as a profession and outlined the factors necessary for personal development, career advancement and sound decision-making. Our community, from practitioners and employers to academic institutions and governments, now has a valuable reference through which they can navigate an ever-changing industry and find a degree of professional certainty.
The result of this historic undertaking is far reaching. Not only will it strengthen the SCMP™ designation and serve the best interest of our current membership, it will also attract new and vibrant talent to our industry and profession.
VIEW REPORT
DOWNLOAD REPORT
Practitioners and Students
Guiding their studies and professional development, practitioners and students can chart a comprehensive knowledge acquisition roadmap to ensure that their professional competencies are continuously aligned with the demands of a dynamically evolving marketplace, creating new and exiting career opportunities.
Employers
Employers can guide the hiring and development of their supply chain teams and the training investments they will support. Specifically, it will assure the level of competency of a prospective hire by establishing a clearly defined, measurable standard reflecting the changing skill sets that will deliver greater performance.
Academic Institutions
Academic institutions can guide their programs and overall course development, using the report's insights to further the effectiveness of the supply chain profession. In doing so, they effectively fulfill what we believe is a critical role in the future of our industry.
Policy Makers
Government and policy makers can use the document to inform sound decision-making and support this key employment sector.
The Competencies of Canadian Supply Chain Professionals © 2022 Supply Chain Canada. All rights reserved.