Ontario Holiday Event 2021 - "Ready, Set, Grow"
11/18/21
Zoom Virtual Platform
5:00 PM EDT
11/17/21
REGISTER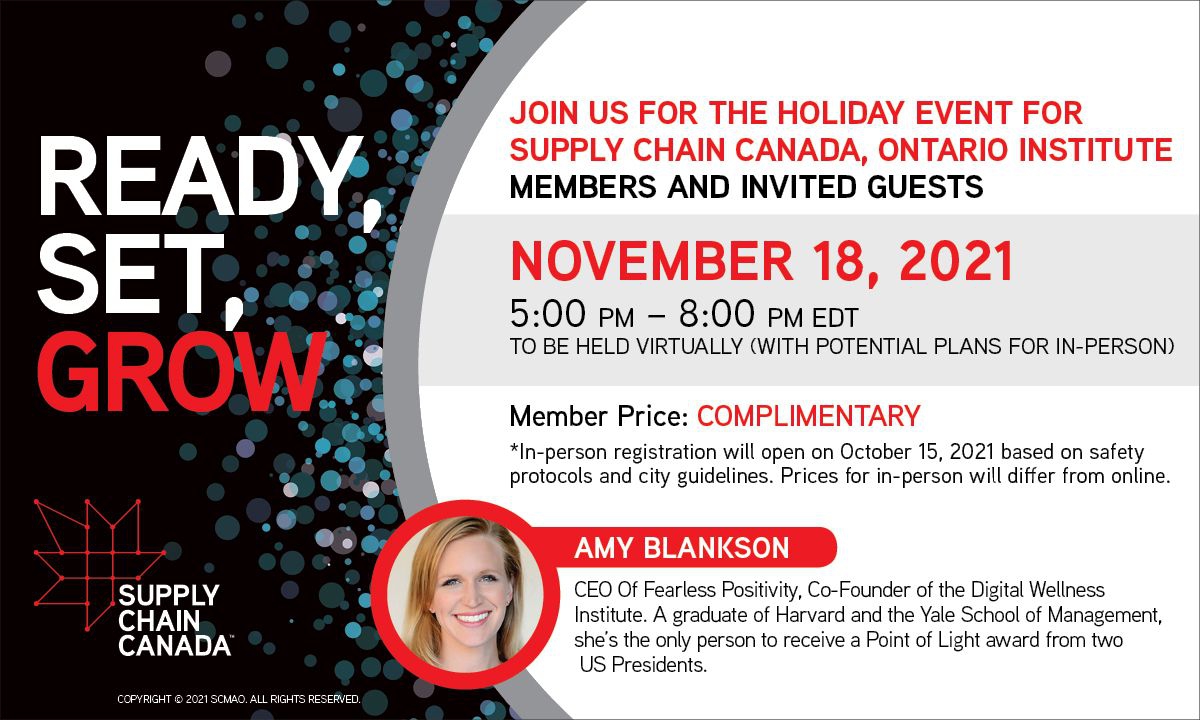 DESCRIPTION
Feel the Energy, Excitement and Optimism of our Supply Chain Community as we celebrate 2021 and move towards 2022. Join us for this high energy, virtual online holiday gala and celebration. While we will be kicking off the holiday season with a celebration of our Members and their milestones in 2021, we will also be looking forward with "Fearless Positivity" to an outstanding New Year in 2022.
Our theme for the event is "Ready, Set, Grow", with a focus on building our personal resiliency and optimism to fuel success in the workplace and at home. Amy Bankson, our keynote facilitator, will be engaging with Members through video and live interactions throughout her presentation.
We look forward to sharing the holiday spirit with you through networking and connecting.
AGENDA
Opening remarks and Year in Review
Member Celebration
Fearless Positivity Session (interactive)

Facilitated networking
SPEAKERS
Amy Blankson
CEO / Co-Founder Fearless Positivity / Digital Wellness Institute
Amy Blankson is a bestselling author of The Future of Happiness. As a graduate of Harvard and the Yale School of Management, she's the only person to receive a Point of Light award from two US Presidents. She is also a member of the UN Global Happiness Council, a Fellow of the World Innovation Organization, a featured professor in Oprah's happiness e-course, and a regular contributor to Forbes. Her current work focuses on how to cultivate happiness and well-being in the digital era.
KEY TAKE-AWAYS
Help fellow members celebrate their milestones in 2020/2021
Learn more about the neurological responses we have to events and tools to help fuel your positivity and personal resiliency
Hear how members and executives enable positivity in themselves and their workplace
Connect with old friends and make new ones in our facilitated networking rooms
FAQ
Will the event be offered in-person?
We are currently vetting venues for potential in-person simultaneous events. Dependent upon safety precautions and risk mitigation measures, should in person options be available, registration will open on October 15th. Otherwise, an update will be posted here to confirm whether or not in-person venues will be offered.
Can non-members attend?
For non-members who wish to attend, you can become a member at our introductory rate of $197 + HST by going to our website here: https://www.supplychaincanada.com/membership
WHO SHOULD ATTEND?
All Ontario Members