Live Chat: Public Procurement Strategies to Avoid Impact of Manufacturing Disruptions
01/25/22
4:30 PM EST
01/24/22
2
REGISTER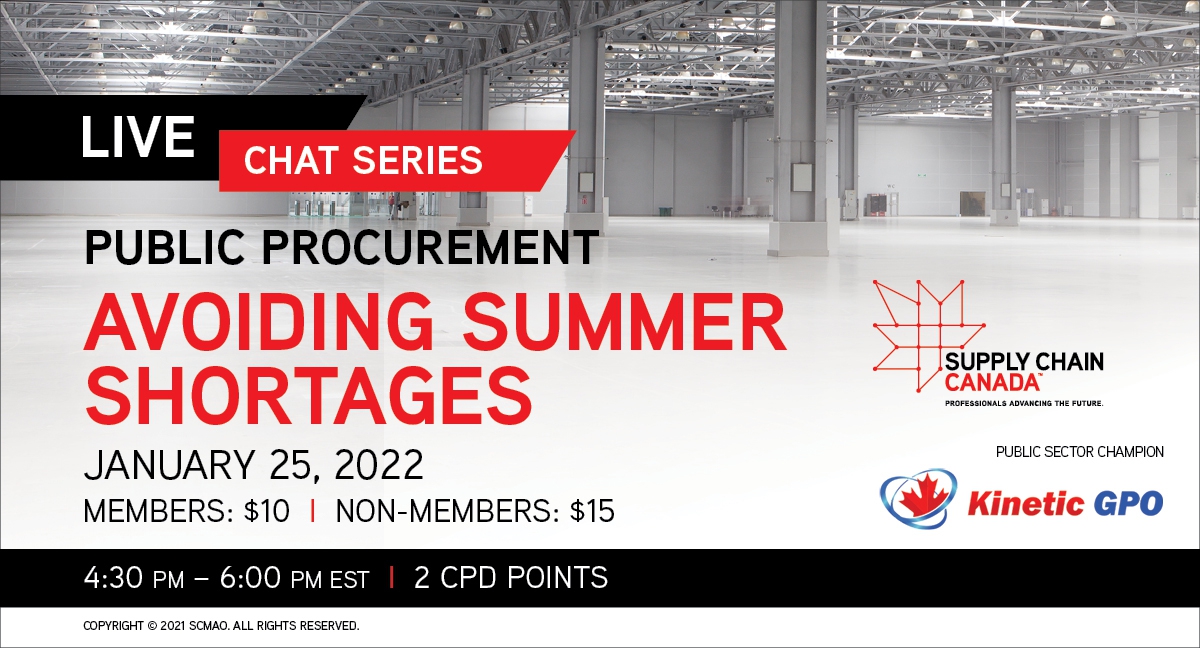 DESCRIPTION
Revenue for this event will be donated to Sick Kids Hospital by SCMAO. Further, this donation will be matched by Kinetic GPO, Toro and Trane.
Kinetic GPO will also donate the same amount to Sity Society.
Join our panel discussion to learn about strategies to mitigate the supply chain disruptions that are leading to manufacturing delays and potential equipment availability shortages in the New Year. In this discussion we will explore the creative programs and strategies specifically offered by one manufacturer, to support your successful planning and acquisition of needed equipment at the right time, while balancing the processes and approvals required of public procurement professionals. Our Public Procurement Practitioners and Toro executives will reveal the creative solutions that have worked in public entities across North America and answer your questions about how to leverage the learning within your organization, and with other suppliers you may be working with.
AGENDA
4:30 pm - Opening comments, welcome and introductions and Housekeeping
4:40 pm - Moderator intro to Panel, and panel discussion
5:15 pm - Participant Q+A
5:30 pm - Networking
SPEAKERS
Jon Stodola, PPSM
Government Sales Manager The Toro Company
Moderator
Boyd R. Montgomery
Regional Business Manager; Commercial Products Division Sports Fields & Grounds, North America
Carrie Mathes
Procurement Division; Manager Orange County Government
KEY TAKE-AWAYS
Be proactive in planning for your capital equipment needs, and avoid the shortages anticipated, while still accommodating the processes needed for formal approvals, with no risks.
Upcoming sessions
Live Chat: "Demand Shaping" vs Demand Planning – Data Informed Problem Solving02.15.22
Join our panel of experts and practitioners to learn how to align your supply with the volatility in demand. Our panel will discuss how to use existing data to inform pricing strategies, promotions, and shape the demand to maximize your supply.
REGISTER
Past sessions
Building Internal Relationships – Promoting Supply Chain Value Internally
Let's close out 2021 together! Join your counterparts in public sector supply chain to gather, network and share. While supply chain issues have been spotlighted in the media, there are still stakeholders in every business who do not appreciate the value that their supply chain team will bring to their results if they engage early.Join in on our Fireside Chat about how to Build Internal Relationships and promote Supply Chain Value Internally, and connect in our break out rooms to share the stories and successes.
WHO SHOULD ATTEND?
All Public Procurement Supply chain professionals