Identifying and Managing Procurement Risks
07/19/22
1:00 PM EDT
07/15/22
10
Starting at $850.50
REGISTER
DESCRIPTION
Workshop Dates:
July 19: 1:00PM EST - 4:30PM EST
July 20: 1:00PM EST - 4:30PM EST
July 26: 1:00PM EST - 4:30PM EST
July 27: 1:00PM EST - 4:30PM EST
CPD: 10 CPD Maintenance Credits
Pricing:
Early Bird Registration until June 18, 2022
Member: $850.50 + HST (13%)
Non-Member: $1,120.50 + HST (13%)
Regular Registration
Member: $945 + HST (13%)
Non-Member: $1,245 + HST (13%)
Corporate Price: 20% off for a team of 4 and customized pricing for a team of 5 or above. Please contact Alisha Seguin at aseguin@supplychaincanada.com
Workshop Overview:
Procurement risks are ever increasing considering the high value, increased size, scope and volume of procurements, complexity, stringent policies, rules, regulations and trade agreements. This workshop is developed to identify potential risks and provide practical tools and strategies to mitigate those risks.
This workshop is critical now more than ever as it is designed to address all facets of procurement risk and provides advice to identify, access, avoid, transfer and mitigate the supply chain challenges/risks in crisis times (e.g. Global Pandemic). How an outbreak of deadly disease happening at other part of the world would impact your supply chain and how you can protect your supply chain and address supply shortages and access to critical products and services.
Professionals involved in Supply Chain Activities make decisions and inherit a variety of risks while executing procurement projects involving a large amount of dollars. Are you aware of those risks and should you be taking those risks? And how to provide value added services to your organization by effectively mitigating procurement risks. Procurement professionals that understand risks, consequences and mitigation strategies are the leaders for supply chain. Procurement professionals are tasked to achieve cost-savings and conduct an open, fair and transparent procurement process. Do you realize that systematic identification and risk mitigation strategies significantly increases your chances of achieving those cost savings targets and meeting the fairness obligations?
This workshop will show you how to achieve those targets and provide you with comprehensive understanding of different types of risks at each stage of the procurement process. It will provide you with risk mitigation strategies, case studies, checklists and best practices.
Learning Outcomes:
Overview of procurement stages: planning, developing specification, selecting appropriate procurement method, managing tendering process, evaluating bids, negotiations, contract management and close-out.
Understanding key procurement methods (Request for Proposal, Request for Tenders, Request for Information, Request for Prequalification).
Awareness of different type of potential risks (what could go wrong) in the procurement cycle (Policy, Process, Technical, Project Management, People, Legal, Finance, Fairness and Technology).
Supply chain risks management in the crisis times (e.g. Pandemic)
Standard payment terms, risks of lower credit limits and its impacts on workload, stockout, backorder, ordering cost and profit margin.
Process of identifying the unknown and known risks.
Accessing the impacts of potential risks.
Applying proven strategies/options to mitigate potential risks (Action Plan – when and how to avoid risks, assume risks or take a hybrid approach).
Strategies to improve the bottom-line (cost savings, cost overruns) and value-added services to your clients.
Case studies to apply the knowledge obtained in this workshop.
Instructor: Umesh Kalia, CSCMP, CPPO, CPPB, C.P.M.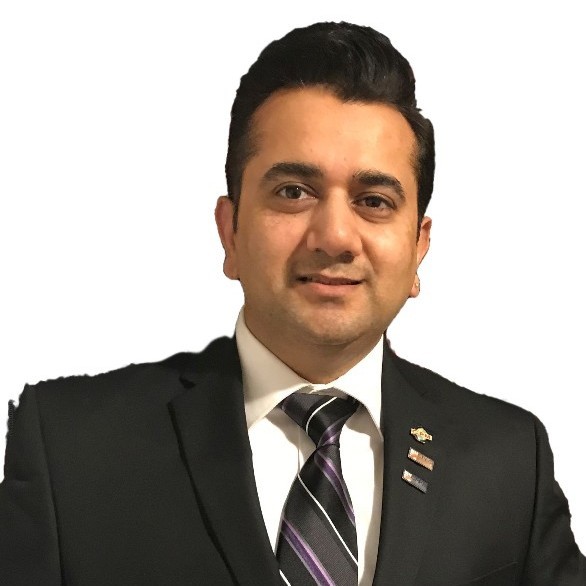 Umesh Kalia has over 20 years of procurement and supply chain management experience both within the private sector (Suzuki Japan & Linamar Corporation - automotive industry) and 12 years as a Public Servant. Umesh led several complex and high value procurement projects and provided real-world procurement solution for real world problems, including navigating and protecting the supply chain in Crisis times (e.g. Pandemic)
Currently, he is a Manager, Procurement Strategy and Operations - Regional Municipality of York (York Region) and his previous procurement and management roles were within the Ministry of Government and Consumer Services, Ontario Ministry of Health and Long-Term Care, Ontario Ministry of Natural Resources and Forestry, City of Brampton and University of Toronto.
Umesh is a Mechanical Engineering graduate and a Certified Supply Chain Management Professional (CSCMP), Certified Public Procurement Officer (CPPO), Certified Professional Public Buyer (CPPB), and Certified Purchasing Manager (C.P.M.) designations holder. Umesh is a program Faculty at the Osgoode Hall School for the Public Procurement Governance program. Umesh has trained wide variety of professionals on areas of Procurement Policy, Procurement 101, Effective Contract Management, Effective Negotiation, Writing Scope of Work and Statement of Work, Developing and Managing the RFP process, Writing Effective Briefing material, developing Business Case, Managing Mandatories and avoiding non-compliances.
Interactive Workshop Cancellation/Refund Policy:
A full refund will be issued on cancellations received in writing at least 10 business days prior to the workshop start date. An administration fee of $150.00 is applicable if notification is received between three and nine days prior to start date. Thereafter no refund will be available. Substitutions and transfer of registrations is permissible when received in writing three business days before the workshop start date. Credits to be used for future offerings are valid for 12 months from the date of initial payment and will expire if not used in that time frame.
Disclaimer: Your name, title and company shall be shared with Supply Chain Canada's third party partners. If you wish to not share this information, please opt-out during registration.
Upcoming sessions
Canadian Construction Procurement05.31.22
Contract Fundamentals and Negotiations06.16.22
Information Technology Procurement and Related Contracting09.29.22
Project Management for Supply Chain Professionals11.02.22
Capital Equipment Procurement and Contracting11.30.22
WHO SHOULD ATTEND?
This workshop is designed for wide-range of professionals involved in Supply Chain Activities (procuring goods, services, construction, consulting) within the private sector and public sector organizations (Municipal, Provincial and Federal government, Universities, Hospitals, School boards, Colleges and other government agencies) where they are directly or indirectly involved in procurement activities and influencing the procurement outcome.
The professionals including Project Managers, Evaluation Team members, Logistics professionals, Category Specialist, Procurement Analyst, Procurement Managers, Business Analysts, Subject Matter Experts (SMEs), Contract Managers, HR, IT, and Finance Professionals would greatly benefit and gain confidence from this workshop where they would understand the procurement risks and gain knowledge around the best practices for managing those risks to improve the overall bottom line of their organization.