Live Chat Public Sector: How to Manage your RFP Process
05/17/22
4:30 PM EDT
05/16/22
2
Starting at $10
REGISTER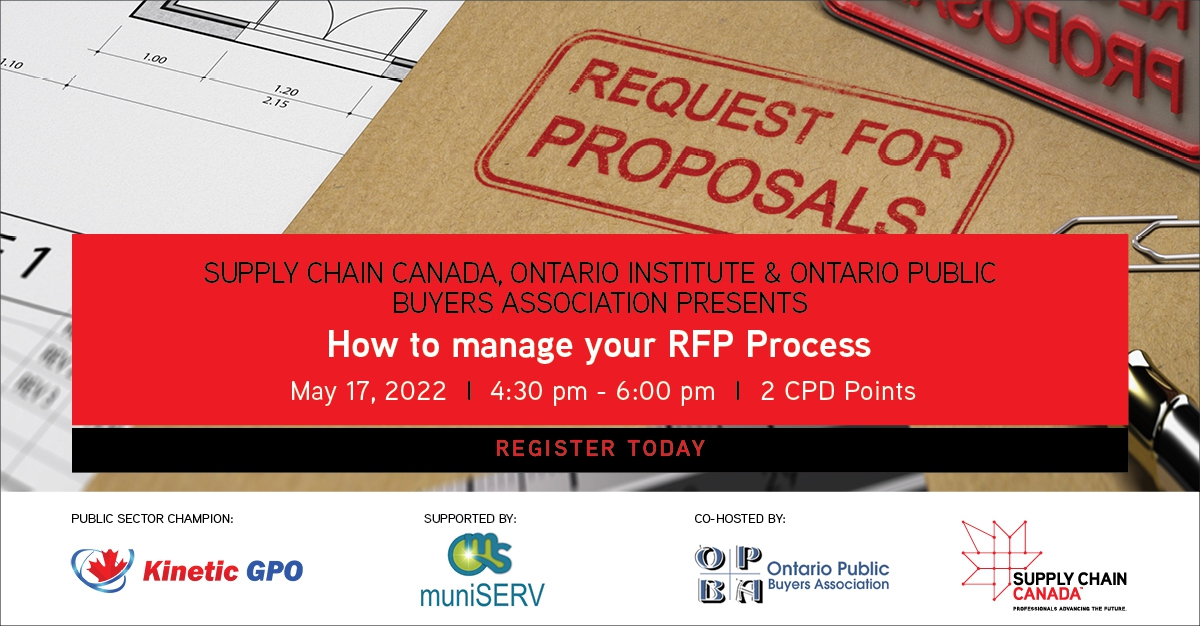 DESCRIPTION
Join our panel discussion to learn about how to assess your situation and determine the best process to use to achieve your goals. We will explore different perspectives from practitioners, vendors, consultants and others.
AGENDA
4:30 pm - Panel Discussion
5:15 pm – Q&A
5:30 pm - Networking
SPEAKERS
Victoria Mirlocca
Procurement Manager, Client Relations & Category Management City of Vaughan
Moderator
Lori Jackson
Buyer York Regional Police
Panelist
Hugh Lawson
Director, Business Development, Canada Staples Canada
Panelist
Chris McLeod
Chief Executive Officer NVision Insight Group Inc.
Panelist
Greg Dadd
Principal, Procurement and Fairness Advisory Services OPTIMUS | SBR
Panelist
Sandra Lisi
Director, Purchasing Client Services City of Toronto
Panelist
Upcoming sessions
Live Chat Public Sector: Procurement Through the Lens of Cyber Security 07.19.22
Don't get caught off guard! Join us as we explore the impact that increased Cyber risks have had on procurement processes across a spectrum of organizations. How have your peers in the MUSH Sector adapted to mitigate the rising risks? What can cyber security experts share with respects to practical, actionable advice?
REGISTER
Live Chat Public Sector: In Partnership with Kinetic GPO and OPBA10.04.22
Join Kinetic GPO as they provide industry insights that support public procurement in simplifying complexity, developing adaptable strategies, overcoming challenges and delivering value.
REGISTER
Past sessions
Live Chat Public Sector: Dealing With Price Fluctuations
Join our panel discussion to learn about how to deal with price fluctuations. Our panel will share proactive strategies and reactive strategies to manage and mitigate risks.
WHO SHOULD ATTEND?
All public procurement supply chain professionals