Ontario Special Meeting of Members - May 2022
05/31/22
5:00 PM EDT
05/31/22
Free for Ontario Members
REGISTER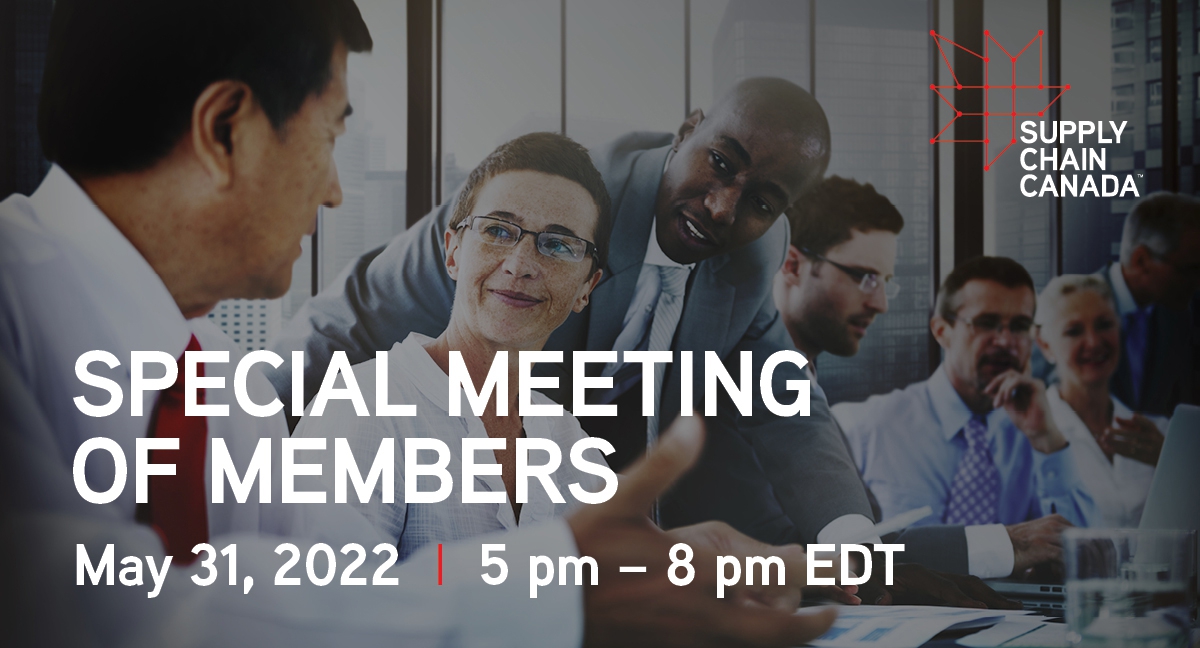 DESCRIPTION
SUPPLY CHAIN MANAGEMENT ASSOCIATION ONTARIO
(the "Corporation")
NOTICE OF SUPPLY CHAIN MANAGEMENT ASSOCIATION ONTARIO
(OPERATING AS SUPPLY CHAIN CANADA, ONTARIO INSTITUTE)
SPECIAL MEETING OF MEMBERS - MAY 31, 2022
TAKE NOTICE that a special meeting of the members of the Corporation will be held virtually on Zoom on Tuesday, May 31st, 2022 at 5:00 – 8:00 PM EDT for the purpose of voting on the disassociation of the Corporation from the federation of the Supply Chain Management Association ("National Association") and the provincial/territorial Institutes of the Supply Chain Management Association ("Institutes") in accordance with Section 13.1 of the federation agreement among the National Association and the Institutes (the "Disassociation"), which provides as follows:
An Institute may voluntarily Disassociate if such Disassociation is authorized by a vote of at least two-thirds of the members of that Institute present or represented by proxy (if applicable) at an annual or special meeting of the members of that Institute called for that purpose.
The board of the Corporation has approved the Disassociation and recommends that the members of the Corporation approve the Disassociation. The pre-read material below (or click here) will provide you with additional details to facilitate your ability to make an informed, fact-based decision.
All eligible voting members are strongly encouraged to take the time to read the pre-read material and attend this pivotal meeting or submit your proxy form. Together, you will determine how you want to steer YOUR association. The decision we make collectively will have an exponential impact on how we serve you and your peers in the supply chain community.
Notice Package
This notice package includes the agenda of the meeting, the form of proxy, and the proposed resolution of the members approving the Disassociation (attached as Schedule A). To view the notice package, please click here.
Pre-Read Material
In addition to the notice package, please review the pre-read material to help you understand the context, background, and impact of the decision that eligible voting members will make on May 31st at the special meeting of members. To view the pre-read material, please click here.
Print-Friendly Proxy Form
If you cannot attend, please submit a proxy form by May 25, 2022, 5:00 PM EDT.
DATED as of the 6th day of May 2022.
By Order of the Board
WHO SHOULD ATTEND?
Only Ontario Members in good standing are eligible to attend.
Please note that Student Affiliates, Academic Affiliates, and Business Associates are not eligible to attend this meeting or to cast a vote.